Listen 2 Kids Online is a divorce parenting class designed specifically to meet the needs of court-ordered divorce education. It takes court-ordered live classes a unique step further.
Expert instructors' presentations are augmented by interviews with at-risk kids themselves,

animated co-parenting skills segments,

interviews with credentialed experts in family therapy, dispute resolution and life experience

Convenient go-at-your-own-pace format
I enjoyed this class! It felt as though i was in an in seat class, in regards to the required interaction questions and attention grabbing lessons. You are a great and through instructor, talk about a tear jerker when listening to the childrens stories but also an eye opener to how much they are truly affected by their parents' actions. A Participant
How can this class benefit your court system?
Seamless administration with consistent quality

Email reporting to court upon class completion

Can be customized to the needs of your jurisdiction

Reduction of conflict between litigants

Evidence-based content, presented in an engaging, interactive and informative online experience

Checkpoints and surveys assure attentive participants

Eliminates logistical and scheduling issues, especially for rural districts
Click HERE for a video preview of the course.
Single Class price is $38. Quantity discounts are available to court districts, and other class settings.
For court pricing contact us at info@listen2kids.net or call 970-243-3574
Click HERE to enroll in Online Class ONLY.
I took both the high-conflict and co-parenting courses offered, and found great value in both. It was certainly well worth my time, and I was able to immediately utilize the techniques you taught to reduce the conflict in my divorce process. A Participant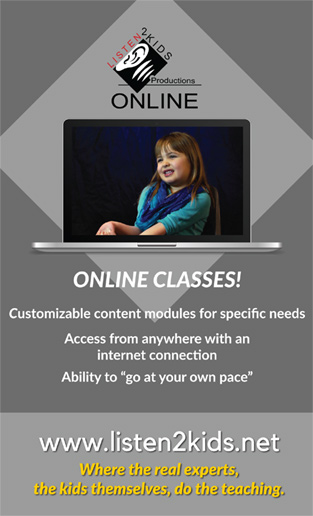 ---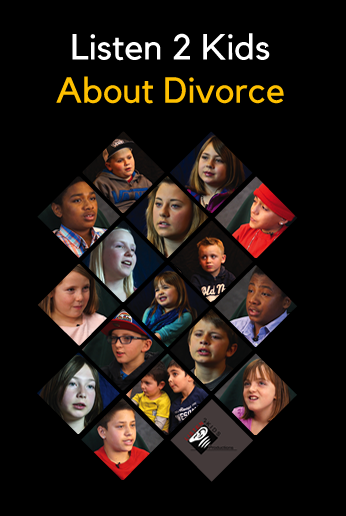 Listen 2 Kids productions' mission is to give voice to these often overlooked heroes, the children of divorce.

Our first video "What Parents Need to Know from Kids About Divorce" has been a great success. It has sold all over the US and Canada and has been used in divorce education classes, colleges and universities, schools, and in homes.

This 19-minute film is an updated version that focuses on resiliency, featuring kids coping and parents

helping. While the content is fresh, one thing remains unchanged: the real experts,

the kids themselves, still do the teaching.





Available on DVD or USB Flash Drive.

Click HERE to preview this film.




After working with kids and their families for 35 years, Sue Polan became acutely aware of the wisdom of children and believes that the world could be ever so much better, if we would just listen to them.

To that end, Sue founded Listen2Kids Productions to create videos that seek to give voice to the wisdom of children as they teach us about important life topics such as grief, divorce and autism in the family. As adults, we give ourselves permission to dismiss what kids say. But kids haven't learned cynicism, and they are better at getting down to the heat of an issue—if you give them a chance.





"...a special thank you for a video with such a heartfelt insid

e

view of how kids feel. I will recommend this to my clients."

Isolina Ricci, Ph.D
Licensed Marriage and Family Therapist
Director, CoParenting Today


The Divorce video is available
in English and Spanish.

Click HERE to preview the
Divorce video

Click HERE for details and to order.



"The children are so very clear about what they need from adults - presence, transparency, boundaries, peace. For parents and family law attorneys."

Cynthia Grover
Attorney

Click HERE to preview the
High Conflict Divorce video

Click HERE for details and to order.




"This film is very real and very reflective of what kids experience through their journey. Everyone is afraid to talk to kids--just ask them.
Well done!"

Debra Bailey RN, MS, FNP


Click HERE to preview the
Illness video

Click HERE for details and to order.





"Children have their own internal wisdom. These unscripted kids give us insights into their process. This is a valuable tool for anyone working with youngsters moving through the grieving process."

Christy Whitney
Executive Director
Hospice & Palliative Care of Western Colorado

Click HERE to preview the
Grief & Loss video

Click HERE for details and to order.
"Siblings of Autism is a
powerful and thought-provoking film. I wish I'd had this information when raising my son with autism and his brother. The insights offered by these children will be most appreciated by families, caregivers and service providers."

Joan Anderson M.S.
Autism Specialist and
parent of an adult on autism spectrum

Click HERE to preview the
Siblings of Autism video

Click HERE for details and to order.

"This video takes an honest look at inclusion from the perspective of staff and students. For this elementary school, the rewards have been worth the challenges."

Julie Albright
School Psychologist

Click HERE to preview this video

Click HERE for details and to order.



Desk Reference Cards
Partners In Parenting Quick Reference Cards provide an instantly
understandable, graphic guide to recognizing and responding to the
effects of divorce on children at all developmental stages. The flip
side does the same for Grief and Loss. These are a must-have for
parents, professionals and anyone working with children in a
divorce situation, or children who have experienced loss in their lives.

Click HERE for details and ordering.