"Siblings of Autism: The Challenge and the Hope"
Click HERE to view excerpts from the 21-minute DVD.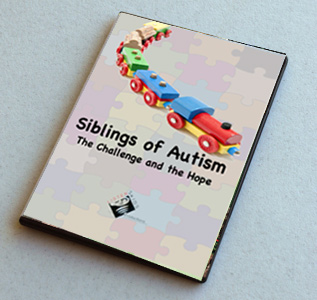 "...a special thank you for a video with such a heartfelt inside view of how kids feel. I will recommend this to my clients."

Isolina Ricci, Ph.D
Licensed Marriage and Family Therapist
Director, CoParenting Today

The siblings of kids who have autism have a unique perspective on how the disorder can alter a family. Their lives are deeply affected as they struggle with the feelings of frustration, inadequacy and depression. Yet they learn to balance these challenges with caretaking, acceptance and hope. With candid wisdom, this 30 minute DVD explores the delicate tension of these unnoticed everyday heroes.
Brief interviews with siblings on the spectrum are interspersed throughout.
This is a must see for parents, professionals and kids who live and work with those diagnosed with ASD.
Running time approximately 30 minutes.

"I See Your Ability: Inclusion in the Classroom"
Click HERE to view excerpts from the 22-minute DVD.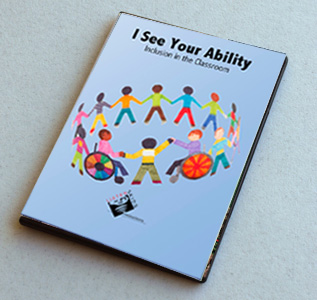 "This video takes an honest look at inclusion from the perspective of staff and students. For this elementary school, the rewards have been worth the challenges."

Julie Albright
School Psychologist


Don't miss our special package prices for the DVDs, Quick Reference Card and Activity Book together. Scroll Down for details.
Listen 2 the Kids as they talk about the incluson of their friends with special needs in the classroom, on the playground and in the lunchroom.
This brief study of the inclusion process in an exemplary elementary school accents the joys and challenges of everyday life.
The culture of acceptance is evident throughout.
This film is a "must see" for teachers, teachers in training, counselors, psychologists, parents and advocates for the educationof special needs students everywhere. Challenging and uplifting!
Running time approximately 22 minutes.
Click HERE for details and preview of the "What Parents Need to Know From Kids About Divorce" DVD.
Click HERE for details and preview of "The High Cost of High Conflict Divorce"
Click HERE for details and preview of the Siblings of Autism DVD.
Click HERE for details and preview of the "Inclusion" DVD.

Special Value! Combination Packages

VERY BEST VALUE: All 6 DVDs English Language


The Combination Value Packages below are for Families, Professionals, K-12 & Public Libraries only



Click HERE for details about the Activity Books.
Click HERE for details about the Quick Reference Cards.





You may order online or by mail. PURCHASE ORDERS WELCOME



Scroll tdown for mail order info.
Shipping and Handling - $6 covers up to $200 in items shipped to the same address; shipping is FREE on orders of $200 or more for items shipped to the same address.
Quantity Discounts apply for orders of 10 or more DVDs. Please contact us at 970-270-4005 or info@listen2kids.net for details.
Online orders normally ship within 48 hours via USPS. Contact us for expedited shipping. Mail orders paid by check ship after checks clear, normally 5 business days.
Orders for Streaming Videos are completed as separate transactions from
hard-copy orders. They will not appear in the shopping cart, but are processed immediately. You may replay Streaming Video for 5 days after completing your order.
Order by Mail: Mail orders are welcome. They are shipped via USPS with delivery confirmation. Please make checks payable to Partners In Parenting, LLC and send to:
Partners In Parenting, LLC
P.O. Box 3954
Grand Junction, CO 81502

Be sure to include your shipping address, telephone number and email address.
Please do not send credit card information via mail or email. Sorry, no COD orders.
Questions and Customer Service: I welcome your questions and feedback. Contact me at:

Sue Polan
Partners In Parenting, LLC
P.O. Box 3954
Grand Junction, CO 81502
970-270-4005
info@listen2kids.net